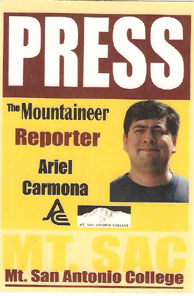 Welcome to my writing site. I am a community reporter and freelancer and I have set up this site to showcase some of my writing for potential employers as well as for colleagues and others to review online. I graduated from Mt. San Antonio College where I earned an Associate degree in Liberal Arts and another in Behavioral Sciences.
I have been freelancing for the Walnut Weekly News for the past two and a half years and I have links to some of my articles here, as well as links to photos. I have also covered high school football games for the San Gabriel Valley Tribune. Finally, I was the web editor and former Editor in Chief of my alma matter at Mt. SAC.
My hobbies include reading and writing comic books. I have been reviewing comics for the silverbullet comic books website and lately I have recorded some audio and video casts with my buddy Adam Valenzuela, some of which I have linked here for your listening and viewing pleasure.